Safe-sex Parties for men 18 and over at 1318 Walnut Street in Center City Philadelphia (on Walnut Street between Thirteenth and Broad Streets, on the south side of the street near Juniper St. Click here for maps and directions)
The club is only open during our 4 monthly parties - check here on the Website or call 215-618-1519 -- any time, for party dates and times.

(if you're looking for the schedule for the current month it's on our
main page
)
July 2013 Jacks schedule
Wednesday, July 3
Doors open at 7:30pm

Tuesday, July 9
Doors open at 7:30pm

Wednesday, July 17
Doors open at 7:30pm
Sunday afternoon, July 21
Doors open at 2:30pm
Doors are open for the first hour of each party so please try to arrive during that time - the action starts up as soon as the doors open so get here early if you can. Parties usually last two to three-and-a-half hours but you're free to leave any time.
We have evening parties on the first and third Wednesdays and the Tuesday after the first Wednesday, and a Sunday afternoon party on the Sunday after the third Wednesday.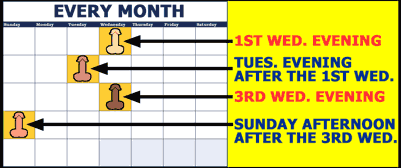 Very occasionally we'll change the schedule to deal with a scheduling conflict - usually around a holiday. You can check the dates for the upcoming parties 24 hours a day here on the Website or on our info-line: 215-618-1519. If you're interested in the party dates for a month that hasn't been announced yet feel free to
drop us an email
and we'll see if we can figure it out for you.
View our schedule on, or add us to your personal Google Calendar.
The Philadelphia Jacks Party Schedule for the next few months is available on a public Google Calendar. Click here to view the calendar if you don't see it displayed below and, if you use Google Calendar or have a Gmail account you can add our calendar to your personal calendar so all Jacks party dates will appear on it.
You can also get schedules and reminders by joining our mailing list.
---
Choose
[Top of this page]
[Philly Jacks Home]
[Information]
[Maps]
[Mailing List]
[Other Groups]
[Volunteer!]
Add the Jacks to your
(These are all supposed to be JO clips, but I don't have direct control over them so there might be some other stuff mixed in)
philadelphiajacks.com site-map: