From a simple leather cock-strap to a full rubber police uniform; leather, uniforms and rubber can be kinky and exotic or (a kinky and exotic) part of our everyday attire. Here at Philadelphia Jacks headquarters we think every day should be at least a little kinky, so with this month's theme party we'll celebrate the erotic charge of leather and rubber fetish-gear and uniforms, and the men who wear then.
So c'mon man; snap on that ball-spreader and pull the buckles on that harness extra-tight; dig out that pair of cum-stained leather boots or work your way into your favorite rubber pants. Get that dick hard and get into the feel, the scent, the look of horny leather and rubber-men getting off together in (and on) their second skins.
• Keep Your Pants On! Theme • Wednesday, April 17, 2013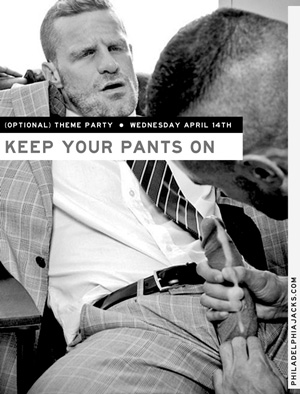 We have a pretty simple dress code for Jacks parties: you gotta take your pants off, but you're welcome to keep on underwear or fetish gear or whatever else works for you - as long as those pants come off, you're good.

Well it's time to break that particular rule!

Having a roomful of men without pants is an important part of setting the mood for a JO party, but... damn is it hot to jerk off a guy who has pants on. Rubbing a stiffening cock through a man's trousers. Helping a guy to undo his fly and then reaching in there to pull his junk out. Pull those pants down and watch that hard cock spring free. And there's something special about a clothed guy in among a group of naked men, too - an interesting, and a hot, dynamic.


If you've ever had sex in a men's room or park this is the party for you - all the fun of cruising without the risk of arrest ;)
• Underwear/Jockstrap/Gear Theme! • Wednesday January 16th 2013

JOCKSTRAP. Just the word is enough to start some men to sprouting a woody. Men in underwear: boxers, jocks, undershirts, union-suits, briefs and all the other gear that we wear under our street-clothes. A hard cock stretching out the fabric of a man's tighty-whiteys; the straps of a jock crossing over hairy ass-cheeks and disappearing between a guy's legs; conservative-looking boxers pulled down to reveal a stiff prick and a tight ballsack; the enticing frustration of trying to get at a hard cock through the y-front on a pair of briefs; chest hair and stiff nips just barely concealed by a sheer undershirt.
Sometimes getting there is MORE than half the fun and, c'mon - you know how much you love to unwrap a big present. Come to the party with your favorite under-gear and be prepared to take it home in a bag because you know it's going to get messy!
Swap underwear with one of your Jacks buddies or bring some extras for other guys to wear and then give back to you. How many loads of cum can you collect on your favorite briefs or boxers? Just like a dick; the best thing to do with a theme is to play with it, let yourself go and get off on it.
Thanks to Striker and All Jacked Up for the inspiring video!
Be prepared to leave the party wearing cum-soaked pants, or bring an extra pair to wear in the playroom, 'cause it's gonna get messy!
Themes are ALWAYS OPTIONAL - if you're excited by the Pants-On theme then join in - if not, know that it's a Jacks party and you can always come and have a good time as you would at any other party.
• Cock-Rings Theme Party! • Sunday afternoon, August 19 2012

When men first started to carve objects out of stone and wood and bone you can bet that it didn't take them long to make the first cock-ring - we all love to figure out new ways to play with our dicks and if it makes your boner stay harder longer - you're golden!
Come to our cock-rings theme party and bring your favorite rings, straps, ball-stretchers and whatever else you love to wrap around your cock and balls and show it off to your buddies. We want to stroke your swollen, veiny rock-hard prick, man, and we want you to return the favor.
If you're new to cock-rings this is a great opportunity to check-em out - bring one along that you'd like to try and feel free to ask questions of men wearing something you're interested in. As always we ask that any extended conversations be brought out of the playroom into the front/clothes-check room - the guys who run the parties are always happy to help you out with any questions or assitance you might need (and we love to watch guys helping each other in and out of cock-rings!).
Whip it out, strap it up and get ready to feel some extra-hard meat in your hands, bud!
• Hidden Identity Theme • Tuesday, May 8th, 2012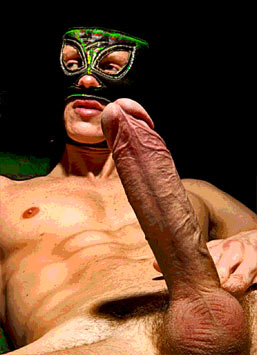 Do you love Halloween but feel that there's something missing from most Halloween parties? Here at Jacks headquarters we believe that no party is complete without a whole lot of hard cocks and plenty of hot, friendly, safe, group sex, so we're having a post-Halloween Maskurbate theme party. Pull on your wrestler mask and whip out that hard dick for our third Hidden Identity Party!

If you've always wanted to join the party but are worried about people recognizing you this is your chance, buddy - bring along a mask and show us your cock!
With this month's theme party we'll celebrate the mystery and allure - and that sexy hint of danger - of the masked man. Get out your leather, pull on that dog mask or live out your pirate fantasies (sorry: no butt-pirates - that's against the rules). The guys who run the party will be in disguise and ready for fun.
Themes are ALWAYS OPTIONAL - if you're excited by the disguise theme then join in - if not, know that it's a Jacks party and you can always come and have a good time as you would at any other party.
• Massage Theme Party with Body Electric

We all deserve the healing power of touch in our lives; whether it's a shoulder rub or a powerful cock-massage. Our visionary friends from the The Body Electric School will be on hand during the party to give short massages to interested men; demonstrating some of the techniques they've developed to help to awaken the erotic energy that lies within all of us. The Body Electric workshops are powerful, playful and life-changing.
We want to encourage more playful, erotic massage at Jacks events in general, not just at this theme party. Let me tell you: if I have a man in front of me stroking my cock and balls and another guy behind me rubbing my neck and shoulders I am a very, very happy man. Getting off is great, but getting off AND getting a nice massage? Perfect!
Come on out and rub your Jacks buddies the right way and they'll probably return the favor.
Have suggestion for future party themes? Send 'em to and we'll see what we can do.
[Top of this page]
Add the Jacks to your