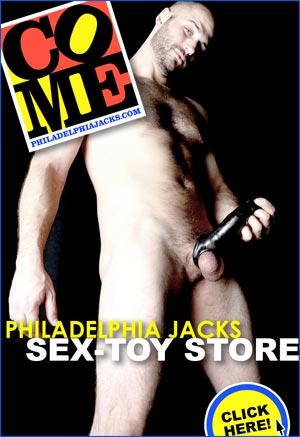 New York Jacks -- New York, New York, U.S.A.
The New York Jacks maintain a list of JO clubs all over the world. They recently did a snazzy Website redesign so it looks like their links are pretty up-to-date. They meet twice a week and are the daddy of all the JO clubs - they started it all!

Melbourne Wankers -- Melbourne, Australia
The Melbourne Wankers maintain a list of jackoff clubs all over the world. The list is definitely NOT up-to-date, but it might help you find guys in your area who have experience with jacks clubs. They also have a brief "How to run a Jackoff Party" section.

Rain City Jacks
in Seattle, WA. - doesn't have a link list but it's a great site and a great club. raincityjacks.org

SF Jacks in San Francisco
Strokin' by the Bay since 1983 - these guys were mentors and inspirations during the founding of Philadelphia Jacks. Join them if you're in the area!

Nashville Tennessee's Music City Jacks meet roughly twice a month alternating Saturday and Sunday afternoons. If you're interested, email them at musiccityjacks@aol.com for details.

Philadelphia Jacks SoloBuddies JO blog
If you're looking for some hot jerk-off pictures and videos, along with some other interesting JO-related material, you can stay right here on our site and enjoy our blog!

The Heart of Jacks Podcast : Paul Rosenberg, founder of Seattle's Rain City Jacks and the author of The Heart of Jacks: The History and Culture of Jack-Off Clubs, talks with bloggers, writers, scientists, sexologists, artists, community organizers and regular folks about the world of unexpected ideas that emerge from J/O club and "bator" cultures.
philadelphiajacks.com site-map: